Workshop Registration
This is your invitation and exclusive opportunity to join me
at my 1 day Breakthrough Intensive workshop.
Register your interest NOW
Next date TBC
Vibe Hotel, Sydney, $295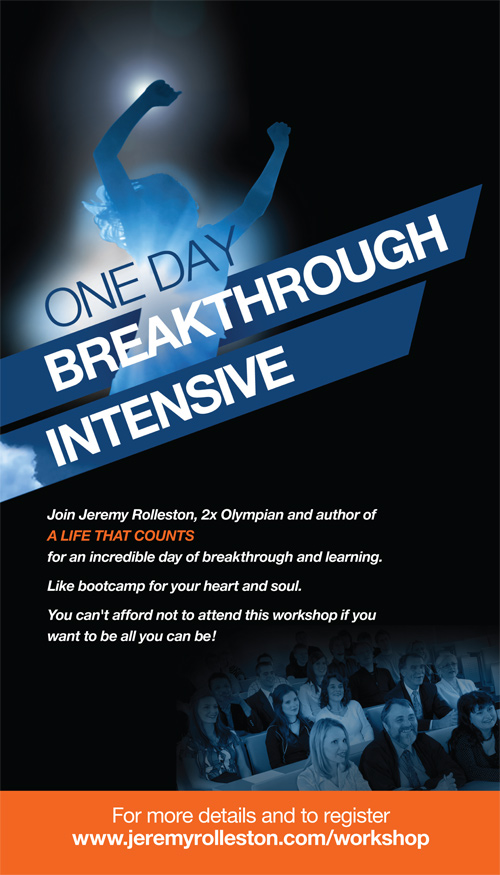 Whether you've experienced and accomplished more than most ever dream of doing in their lifetimes or you've hit a plateau. Whether you've reached the pinnacle of success or feel like you're walking through mud or hitting your head against a wall - it doesn't matter !
This workshop is about going to the next level – whether that be emotional or physical; whether it be in relation to personal satisfaction and fulfillment or business or sport or in some other context. It is about being all you can be and fulfilling your potential in all areas of your life. It is about living the life you dream and living an extraordinary and purposeful life – a life that counts !
The workshop is based on my book A LIFE THAT COUNTS but is designed to go deeper and be more hands on than the book. It encorporates what I have learnt through my own Olympic sporting journey and business career, as well as the lessons and insights shared by the ten famous and successful contributors to the book – Olympic & World champions and Australians of the Year among them.
It is designed to:
Give you the opportunity to explore your core, authentic self.
Get clarity on your dreams and the vision you have for yourself. Not the one that's been scripted by your environment, society or anyone else - you designing your life blueprint as you desire it.
Rattle the cage, challenge you, make you think, and equip you with tools & strategies used by Olympic & World champions to help you close the gap between where you are now and where you want to be.
Give you some psychological understanding for how to make lasting change and why you haven't been able to change before, despite your best intentions.
Not just tell you WHAT to do but help you know HOW to do it !
Make the most of limited time by condensing decades of experience and knowledge into one day and then into hours to provide you with the greatest possible resources (and results) in the shortest period of time.
An experience – you'll have the opportunity to have an experience that will help you shift your mindset about what is possible and leverage off this as you journey forward.
This breakthrough Intensive workshop is about ...
YOU not settling for less than you want or deserve.
YOU taking responsibility for your future and the life you will create.
YOU being truly committed to achieving your best and being all you can be.
YOU not waiting any longer. Not next year. Not in 10 years. Not some day in the future – acting TODAY ! NOW !
SO ... I INVITE YOU TO JOIN ME FOR THIS AMAZING DAY THAT HAS THE POTENTIAL TO TRANSFORM YOUR LIFE.
"A mind once stretched by a new idea, never goes back to it's original dimensions."
"If nothing changes … nothing changes."